Grace & Shelly's Cupcakes Open in Whitefish Bay
The Whitefish Bay store offers more than a dozen gourmet cupcakes and 28 different ice cream flavors.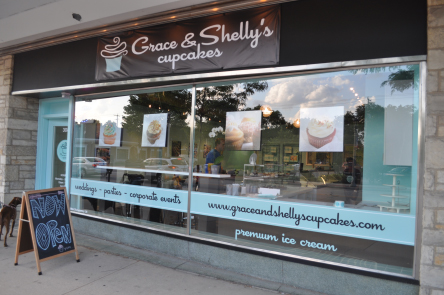 Four years ago, Grace Bolen decided to end her career as a software consultant and pursue her passion for baking cupcakes.
After a little more than a year in business, she was joined by business partner Shelly Stayer, and together they have built a mini cupcake empire around Naples, FL. With five Florida stores, Grace & Shelly's Cupcakes decided to expand to Whitefish Bay.
After three months of anticipation, the Whitefish Bay cupcake store opened in the former Think Toys space at 308 E. Silver Spring Dr. on Monday morning, drawing dozens of families through the door to sample the gourmet cupcakes and ice cream.
Bolen was busy baking throughout the day, and was happy to see the enthusiastic response from local customers.
"As soon as you put them out, they go off the shelf," she said.
When she first started four years ago, she had 12 different cupcakes in her recipe book. Now, she has about 35 different flavors that are rotated on a daily basis. Customers can choose from 13 to 16 different cupcake flavors on a given day. Top-sellers like Red Velvet are available every day.
They also have a large ice cream selection: 28 flavors from Madison-based Chocolate Shoppe Ice Cream.
In addition to the walk-in traffic, Bolen said their cupcakes are popular for corporate and charity events, as well as birthdays and weddings. Standard size cupcakes are $2.95, and the small "shooter" cupcakes are $1.95. They also have larger, custom-order cupcakes that are popular for birthdays.
Gourmet cupcake shops have continued to blossom around Milwaukee in recent years, including Milwaukee Cupcake Company, Classy Girl Cupcakes and Miss Cupcake. Bolen, whose cupcakes received a thumbs up from TLC's Cake Boss, said cupcakes are popular because they offer the delicious flavor of a gourmet cake – but with more variety.
"Everybody likes cakes, but they might not want to go out and buy a 10-inch cake," Bolen said. "Especially with weddings, you are able to provide a larger selection of flavors. So cupcakes give you a variety, as well as the convenience."
Grace & Shelly's is open during the day, as well as for those seeking an after-dinner dessert. The store's hours are 10 a.m. https://graceandshellyscupcakes.com/grace-shellys-cupcakes-open-in-whitefish-bay/2013/to 9 p.m. https://graceandshellyscupcakes.com/grace-shellys-cupcakes-open-in-whitefish-bay/2013/Monday through Saturday and 11 a.m. to 6 p.m. on Sunday.